Logic Design is first and foremost a team. Each month, we will introduce a new member of the #LogicTeam for you to meet the people behind the scene…
The "business adventure towards Logic Design", as Ferran Dachs himself names it, is the path that brought him to the agency and it is needless to say that it was not paved, but made of continuous changes, crazy ideas and seized opportunities. Ferran's professional journey is made of different pieces that eventually make sense together, years after, when we recreate the puzzle.
Over the years, we have heard a lot of anecdotes about Ferran's past. He likes to give away bits and pieces when walking down the corridors or having breakfast at the office. Every time we get to know a new episode, it feeds our curiosity.
The day we got to finish the puzzle has finally arrived. It took place on a late Summer morning when we sat down together in one of the rooms of the Casa de les Punxes with a cup of coffee. Let me tell you that story.
It all started in Sant Feliu de Codines, a little town not far from Barcelona. At the time, a very young Ferran Dachs begun to feel a special appeal for graphic design, taking advantage of every potential opportunity where a poster was needed, for a party or a local event. "I remember it was the time of the Barcelona pre and post-Olympic when the city started to be considered a reference in architecture, interior design, and industrial design."
A bit later, and this was a surprise for no-one, Ferran joined the School of Art and Design of Barcelona located in Llotja (for the anecdote, Picasso and Miro were students there). After he graduated, he began to work in a family business dedicated to interior design. However, his creative personality needed to explore other fields. At that point, the conversation becomes very exciting and another cup of coffee is requested.
Passionate about gastronomy, he said goodbye to design for a while and opened a restaurant in Gallifa, a small rural town. Before he continues telling us his story, he paused, took out his cell phone and showed us the place: "I feel like I have inherited a tradition that runs through mothers, grandmothers and anyone passionate about food, and consists in transmitting through cooking, one's stories and creativity".
The restaurant is now closed but Ferran created another gastronomic project called Màstertast 182. With other colleagues, he organizes meetings with chefs focused on Catalan Gastronomy. During these meetings, they give the opportunity to others to share their passion for food and nurture their culinary curiosity with a real experience.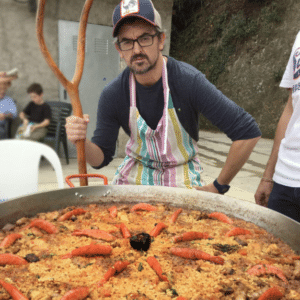 His expertise is extremely rich because he always has been focused on one thing in the end: creativity can be found everywhere. This philosophy and curiosity show in his work.
After experimenting gastronomy, he joined a studio of architecture where he met Dani and Raquel Muñoz. Eleven years later, he is still here, leading the creative and design department at our agency in Barcelona with an optimistic spirit, spreading his motivation to learn, exploring new roads, and successfully overcoming the challenges that each project implies.
Barbara Florres, Communications Manager
Logic Design Barcelona