Delphine, our specialist in culture and outstanding receptionist, introduces her creative crush: Felix Gonzalez-Torres, the artist who gave her an access to conceptual art and made her love it. Have a look through the window, she will show you the way…
Our first appreciation of art lies in our visual pleasure. It is then hard to accept what goes beyond the frame of our cultural aesthetic criteria. "Scam", "laziness", "sham", that is how we usually qualify conceptual art. That art springs where it is not excepted. We let ourselves be gently rocked by the harmony of an exhibition and, out of the blue, there it is, bold, outrageous. The verdict is irrevocable: "this is not art".
Conceptual art is a fierce form of art under the guise of provocation. It does not disclose itself at first sight. It does not come to you easily. We have to make the first move, get to know it, learn about the artist's intention and story to fully grasp the meaning. It is a form of art that requires patience, empathy and open-mindedness. The artist Felix González-Torres really taught me how to appreciate it. His artwork is like an open book on his feelings and deepest thoughts and wounds.
All his work is worth the while, but one piece really stands out for me: Perfect lovers. The installation seems really (too) simple at first with two clocks, side by side, set to the same time. We may feel frustrated in front of so much simplicity, and that is what happened to me, like every time I am facing conceptual artwork. It is a bit like facing a locked up house. We have two options: stay out and walk along, or use the footstool to get to the window and try to see what is going on inside. I chose the footstool…
Perfect lovers, is not merely about clocks. These clocks represent people, two lovers, perfectly synchronized. Their union is paced by the ticking of the clocks, moving inexorably towards their progressive and subtle de-synchronization. The race of the clock pointers widens the gap until one of the two clocks stops. Felix's life partner died of AIDS and the pain caused by that loss deeply influenced the artist's work. Gonzalez-Torres is the remaining clock, the clock still ticking when the other one stopped…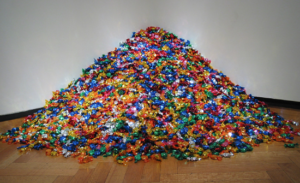 Félix Gonzalez-Torres, Untitled (Portrait of Ross)
With simple daily objects, the artist evokes very intense topics. His most famous piece is a pile of sweets called Portrait of Ross. It represents his partner's weight. The visitors are invited to have a sweet. The pile of sweets dwindles, just as Ross lost weight as AIDS ate him up progressively, until there is nothing left. The sweets scattered in the visitors' hands are the symbol of the fulgurant propagation of the virus in the 1990's.
That is the power of conceptual art: if we dare to look through the window, poetry can emerge from clocks and sweets…
Delphine Romain, Office assistant
More information: https://www.felixgonzalez-torresfoundation.org/about