I had lost interest in walking through the historical center of Paris, chock-a-block with tourbuses and cars. Saint-Germain and the Île de la Cité are must-see places I had been avoiding seeing for quite some time. I carefully apply myself to avoiding Notre-Dame, the gothic masterpiece. Its majesty attracts more than 12 million visitors every year. The forecourt is overcrowded at all times and if you want to go inside you had better be patient! Beauty is like everything else, over time, you get used to it. When you live surrounded by architectural treasures, you eventually begin to pass them without even a glance. They are part of the decor, of the environment. The initial enthusiasm fades away…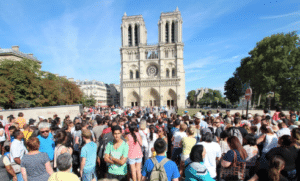 I shunned the architectural heritage of Paris… Until the day when I attended the monumental sound and light show on the facade of Notre-Dame for the commemoration of the 1918 Armistice. As usual, the forecourt was crowded. I stayed anyway. All of a sudden, the lights went out. For the very first time in my life, I was in total darkness in Paris. A religious silence settled on the crowd and the cathedral started to light up. Suddenly, I felt entirely alone in front of this majestic colossus whose surface became the canvas for fabulous paintings. A shower of stars, the infinity of the universe, the divine light, the red of fire, all the colour palettes were reflected on this centuries-old masterpiece, inducing a near-contemplative state. The Notre-Dame de Cœur show created by Bruno Seillier is a mesmerising invitation to inner peace.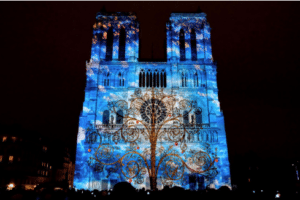 For years in France, the architectural heritage has been enhanced by sound and light shows offering immersive journeys. Architectural treasures are the perfect canvas for light-play, a beautiful source to bring scenes to life when night falls. La fête des lumières in Lyon, Chartres en Lumière, La nuit des Chimères in Le Mans, Notre-Dame de Cœur in Paris, Chroma in Amiens, Le Ballet des Ombres Heureuses in Strasbourg… You rediscover the history of a city, a building, a street… More than a highlight of the heritage, they are wonderful visual experiments which shouldn't be missed!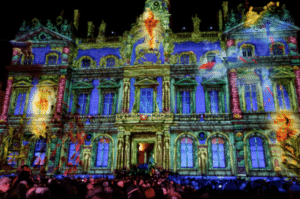 La fête des lumières, Lyon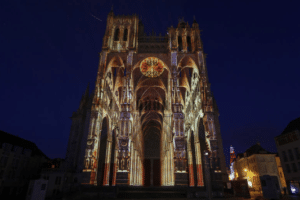 Chroma, Amiens
Delphine Romain
Office assistant