In a world governed by rationale and data, everything must be anticipated, measured, evaluated. The power of traditional religions is declining, bringing down with it the sense of belonging to the benefit of a never equalled individualism.
For what result? A dull daily life where the future is techno-centric and generates anxiety instead of being full of promises for brighter days. Yet Marie Kondo and Susan Miller have found there new opportunities. Yet better-living and self-reconnection businesses have never been so thriving. Yet working on the "Ikigai" and looking for a life purpose is now on everyone's "to-do" list. 
What are the new forms of spirituality to try and return to an inherent need for escape, dream, reconnection to oneself and the others?   
Discover the contemporary forms of spirituality with our horoscope and our 6 key profiles.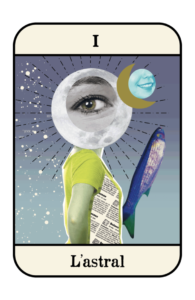 1.The Astral – Trust cosmic laws 
Whether you swear only by your morning horoscope or you simply surrender to the moon's power of attraction in tidal phenomena, the stars have a lot in store for you…
Relationship:
With Costar, forget everything you have learnt with cheap horoscopes based on wild guesses. Thanks to an algorithm developed by NASA, Costar aims to "bring astrology into the 21st century, make the astral experience more social and give people clues to understanding their souls and personal journeys".
With a scientific background and a thread of humour, the app Costar follows you on a daily basis in your personal journey and offers a new interpretation of social interactions based on astrological profiles. Thus, when it comes to understanding emotions, the Sagittarius will find an ideal confident in the Leo. However, as far as pleasure is concerned, we recommend to get closer to the nearest Pisces…
Mood:
Whether the sun is shining or not, June will be placed under the label "binge" for Geminis. Lacking inspiration? If you are an Amazon Primer, check out your purchase suggestions by the famous -yet paradoxically unknown- Anna Katz based on your astrological profile or celebrate anti-heroes by binge-watching "Sneaky Pete" or "Fleabag", two TV shows produced by Amazon Studio. 
If you are a Sagittarius, a need for a return to the roots will lead you to the perfect barbecue recipe or, if you live in the United States, order your steak directly for a home-delivery through Amazon Restaurant. 
Health:
Done with digestion disorders and flatulence! Find the perfect diet with Foodora during the International Astrology Day. You are a Leo? Go for iron-rich food. Sagittarius? Go for nuts. The delivery platform indicates nonetheless that their advice is not to be taken too seriously…
Ladies, if you are looking for a balance in your menstrual cycles, we have the solution: "moonaception". Let us explain. Lunar cycle? 28 days. Menstrual cycle? 28 days. Puzzling, right? Anthropological studies lead in the 1970's which have shown the relations between the phases of the moon and periods are back in the trend thanks to a flurry of fertility apps. For a more regular cycle, you would only need to alternate nights in the dark according the moon's cycles. Easy peasy!
Beware of false accusations: missing your bus because of Mercury's downgrading will not be an acceptable excuse to everyone.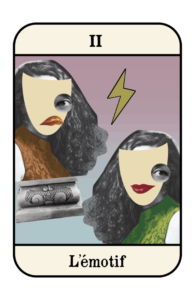 2. The Emotive – Let your emotions guide you
Anxious? Ecstatic? Happy? Stressed? What if it were time to let your emotions flow? 
Health: 
Feeling a little stressed? It is time for you to indulge yourself in a "zen" moment with the Elephant herbal teas and balance your diet. To fight stress, nutritionists and neurologists recommend fat foods. Negative emotions? Chocolate will quickly clear them away. The impact of food on our emotions is scientifically proved, just like a label on a bottle of champagne or prestigious wine generates pleasure or the presence of guests enhances a meal's flavours.
Relationship:
Hard times? 15 years after the "Lacuna" process in "Eternal Sunshine of the Spotless Mind", Propanolol is here to help you. Used in therapies for victims of attacks to reduce the trauma left by the tragedy without erasing the memories, it could also be useful for heartaches, to diminish the negative aspect of a memory without making it go away.
Work: 
The important thing is to take care of yourself before and after work. That is the reason why CitizenM offers two shower gels in their hotel rooms. The first one is to be used in the morning, to start the day bright-eyed and bushy-tailed with an aromatic complex with vivifying and energizing benefits. The second one is better suited for a relaxing shower after a long hard day. Both come with luminotherapy adjusted to your mood. 
Do not forget also to take care of your "subway" moments with art therapy. In Stockholm, an algorithm of facial recognition of the 6 most frequent emotions among the travelers (sadness, anxiety, fatigue, stress, irritation and fear) on the Clear Channel generates in real time digital art works that are said to soothe them. 
You can also eat your emotions away, wandering by Maguey, a restaurant in Paris with a white menu made of the emotions and sensations you will choose.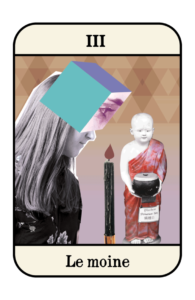 3. The Monk – Choose a minimalist lifestyle
Money cannot buy happiness, you probably know that already… What if now you learnt how to consume less but better? 
Relationship:
Having Facebook friends is nice but they are never there for you when you really need them. Choose to follow the precepts of "emotional minimalism" and build more intimate and more satisfying relationships. The best way to do so is to do like Swedish people and indulge yourself in the hygge, a way of living that is all about finding reassurance in simple things. An evening with friends, natural inhouse decorations, a candle, a cup of tea or a good talk… Look for the detail that makes a difference. 
Work: 
Have you read The monk who sold his Ferrari ? It is about a lawyer whose stressful, unbalanced and money-driven life leads him to a heart attack. Does this ring a bell? This spiritual tale will change the way you see money and social status. We won't tell you more, it is up to you to question your life priorities…   
Health:
It is very simple to stay healthy: choose a balanced diet, exercise regularly, take the time to rest to strengthen your body and mindset and enjoy the present. You will also be all-the-more attractive for it. Mens sana in corpore sano, that is the recipe for success. Moment is the app that measures the time spent on your mobile to help you reduce it and enjoy the "here and now".
Money: 
Follow Patagonia's advice in their campaign Don't buy this jacket and do not buy what you do not need. "Less is more" : try to reuse, recycle, borrow or buy second-hand. Lead a more simple life and spend your money more wisely on things that really matter. To start with, we recommend the Tiny Houses social and architectural movement which promotes voluntary simplicity choosing to live in smaller houses. 
Tomorrow's opportunity: 
Tidy your house Marie Kondo's way and you will see how it puts your personal life in order. Give thanks to all the objects you do not need anymore and throw them away. Use Kijiji, the ads platform to get rid of things and furniture you do not need anymore. This will make room in your life for what makes sense. 
4. The buddha – Look for meaning
You feel a little lost? Tired of the rat race? We have the answers you need…
Relationship: 
Say no to redundant, toxic or useless relationships and focus on the positive ones, the ones that make you feel good. Amino could help you with that. This network organized in communities will put you in touch with people who are looking for the same things as you to start more interesting relationships.
Work:
Do not waste your time in a job you do not like. It is time for you to find your "Ikigai", or "raison d'être" as the French would say. The "Ikigaï" is the most precious secret of Japanese people. It is the reason why getting up every morning is worthwhile. If you do not know where to start, check out the job offers on Escape the City, a platform to find a job with a purpose. 
Health:
Stop dieting or taking food supplements: you are the master of your health. Start listening to yourself and devote 10 to 20 minutes a day to meditation. It will soothe you and help you to know yourself better. Beginners will find the app Petit Bambou very useful. If you are under a lot of stress, we recommend Calm, an app to help you relax and sleep better. 
Money:
Shop along the following principle : only buy brands that are committed and responsible. Not only will you contribute to building a better world but you will also feel more aligned. Read the labels, the nutritional indications, pay attention to where the product comes from, get infos about the brands online… This will be useful. If it sounds too complicated, apps can do it for you, such as Noteo for consumer goods or Good on You for fashion.  
Tomorrow's opportunity:
You are having trouble finding your "Ikigai"? You are looking for meaning? Do not worry. Start with reading The element by Ken Robinson, a best-seller that will help you find your way. If that does not work, watch the documentary "Looking for meaning", a good means to raise your awareness and contribute to a sustainable society. You can even do like the film's producers and try "movie-meditation": a movie projection followed by a debate and a meditation or relaxation session.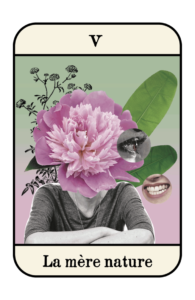 5. The Mother Nature – Find the harmony

Whether you go in for digital detox or for inner peace, here are a few tips to better connect to yourself and to the world around… 
Relationship:
Awareness, connection and energetic flow, what matters is that you take the time to reconnect to your inner power and take your place in the world in a serene way. Remember, you are not the center of the ecosystem, quite the opposite: we are all complementary. It is time you find an harmonious frequency with the Earth and get back in touch with your inner self to improve your relationships.
Work:
Tensions, stress, moral exhaustion? Your work is starting to have a negative impact on your personal life and you can feel it? Try a session at L'École Nature Conscience to get on board for a journey inside "The Company Spirit". You will become aware of the fundamental dynamics that drive your company and discover where its energy mainly comes from. Your relations with your coworkers will become all-the-more healthy and productive. 
Health:
Feeling low? There is nothing better than taking a walk along the forest's therapeutic paths for a "sylvotherapy" treatment. Awaken your 5 senses, listen to the birds singing, watch the shades in colours, hug the trees and feel the vibrant energy of the sap flowing inside. And if you feel like it, taste the bark! You will fill yourself with phytoncides, molecules excreted by trees which reduce blood pressure and improve concentration.
Money:
You feel like you have a hole in your pocket? The masters of Feng Shui had understood that. Lithotherapy can help find abundance back. Stones such as amethyst, aventurine, citrine or cinnabar, are powerful assets to attract the energy of good fortune. To find out what your theme is, we recommend Thème de Cristal, an app that teaches you about the 13 stones that reflect your multi-faceted personality: path of life stone to help you take decisions, transformation stone for material aspects of life, etc. Remember that abundance and fortune are not always about real money…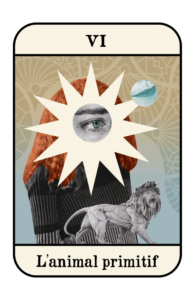 6. The wild animal – Re-engage with your intuition 
Leave right-thinking and hypocritical speeches aside, stop wanting to please everyone and re-engage with the animal inside you! 
Relationship:
Explore your inner self to discover your totem animal. It reflects who you are. Getting to know about totemic symbolism will lead you to speaking an original language that your body, your cells memories, your survival instinct have known from time immemorial. 
Engage in that intimate dialogue with the app Totem Animalier that will guide you in that quest. Be authentic with yourself, that will improve your relationships with others. 
Work:
Slow down and learn how to self-pace your work. Switch to the 4-day week to work in a much more productive way. Stop spending the whole day at your desk, follow your instinct, stand during meetings and take walks to reconnect to your creativity – as Steve Jobs did. 
In France, the company Love Radius which makes baby-carriers already offers to work 4 days a week from May to August.
Health:
Feeling low? You were thinking of starting just yet another "boosting treatment"? Don't! Learn how to listen to yourself and understand how your body works.  Everyone is unique. Start your day with the Lion's breathing to evacuate tensions. Connect to what you feel and adopt an intuitive and primal diet: eat what your body needs when it needs it. Practise the "animal flow" which invites you to put yourself in the place of an animal that walks on all fours. That very instinctive activity allows you to come back to the bases of proprioception. 
Ladies, go for the "free instinctive flow", forget about sanitary products and be kind to your body.
Tomorrow's opportunity:
Go and live in the forest, explore wild lands and – why not? – try one of the latest survival courses in Albania or in the Angkor jungle that are offered by Nomade, one of the French leaders on the adventure travel market. Learn how to fish, hunt, harvest. Re-discover what your ancestors used to do and re-engage with the Homo Sapiens within.
Logic Design's perspective: 
The brands that will succeed will: 
reconnect to the irrational side that moves and fascinates us: new forms of spirituality, dreams, federative narratives… All means will do. 

go further than mere personalization helping their users to reconnect with their primal instincts, guiding them in their search for meaning… 

push forward new landmarks, systems of value and social interactions: creating new communities and allowing the monitoring of achievements without falling into hyper control are tomorrow's challenges.

avoid the pitfall of changing the search for oneself into a new diktat of the "happycracy": all paths leading to self-discovery are right, not having one is fine too.

educate their users to consume less and better. 
Kim Hartmann, Strategic Planner
Charlotte Rifflet, Innovation Manager
Marta Gonzalez Castello, Strategic Planner