If our colleague and product designer Vincent had not praised La Fabrique du Vivant (The Making of the Living) at the Centre Pompidou, I would have missed a masterful exhibition. It is part of a cycle called Mutations/Creations which gathers different artistic and scientific innovative projects related to biotechnologies and the (re)creation of the living. A huge subject…
The first thing that stroke me when I came in was the smell. Or should I say the smells. Dozens of scents mixing into one, hard to describe. Neither good, nor bad. Just a smell. An organic fume, both familiar and strange. This kind of smell has a priori nothing to do in a museum, but it brings life to it. The smell is an integral component of the exhibition.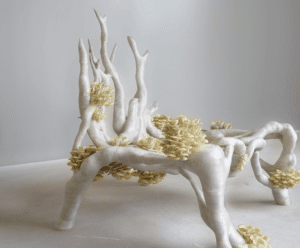 Studio Klarenbeek & Dros,

 Mycelium chair

, 2012-2018 3D printing
I started to pay attention to each project, one after the other, before discovering a futuristic and unconceivable world, though within reach. All these designers, architects and artists have succeeded in modelling the living, programming it in order to transform matter into a smart and adaptable technology. A chair made out of mycelium as an alternative to plastic, a protocellular "auto-regenerative" shoe like a second skin, these pieces are shown and enveloped in a fungal smell and create a new world in front of us.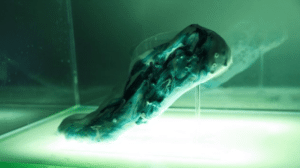 Shamees Aden, 

Amoeba 2.0

, 2012 Prototype of a shoe
It reminded me the novel written by Maurice Dantec Metacortex that I was reading at the time. It was fortuitous that that reading totally conditioned me to the subject of the exhibition. Metacortex, which incidentally did not seduce me, describes a dystopian world where nature has become programmable. Everything is genetically modified in order to control the living beings. Dantec's complex writing caused me great frustration: his universe is masterful… but so inadequately brought up. Every page is a new linguistic abyss. More than once, I almost gave up my reading out of exasperation. But each time, Dantec held me back with a mind-blowing description of his crazy universe.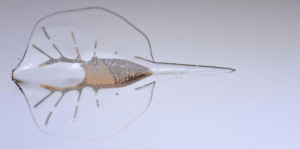 The Disease Biophysics Group de l'Université d'Harvard, 


Tissue-engineered soft robotic ray that's controlled with light

, 2018 
The author created a schism in the feelings I have for his horrid novel. This book has been a mediation to apprehend the exhibition which gave me a more positive vision of that biotechnological future. A world as frightening as exciting, dizzy and endless. At the Centre Pompidou, I was mesmerized by that science-fiction which was science-fiction anymore… This exhibition gives a lot more to think about that it shows. It is an open window on a world left to explore. Maybe it is the beginning of the end of the industrial, cold and objectified society we know and live in? Maybe it is the opportunity to rediscover the living?
Vincent Viard, a product designer's point of view
Beyond the precious beauty of the living, should we not judge the moral reality of these pieces? Should we adopt a kantian vision and only focus on the designers' intentions? Or, is the result the only judge of the validity of these creations? If I transform the living, is it a good thing that my intentions are good? Or is the happiness brought to humanity the only accurate criterium? Afterall, nature has no intention, so why should we worry about ours?
To know more about the exhibition, it is on until April 15th!
Delphine Romain, Office assistant