We often manage to keep going normally, but definitely not for the time being. With Covid-19, we are living through the mother of all crises. We are all involved, and a complicating factor is that none of us knows how long this situation will persist. It is a harsh blow to the economy; for enterprises some consequences are impossible to predict, while the very substance of so many brands is now at risk.
The question becomes increasingly urgent with each passing day: what can we do to steer our way through this crisis as effectively as possible? The difficulty here is the lack of any patent remedy. And the old concepts no longer apply. So, what can we do to defeat this crisis? The need now is for an approach that helps businesses and brands to advance in a way that is at one and the same time structured and flexible. What should their ultimate goal be? Their goal must be to make a successful new beginning once the crisis is behind us. They must create a new brand culture which will help us all to shape the post-Corona crisis world as positively and as mindfully as we can.
The following model is intended to be a contribution and give food for thought. It has been designed with a view to surviving the present situation as best we can, while also successfully shaping the "post-Corona phase". And brands are set to play an important role to that end because they are able to give guidance and security, to inspire people and influence them positively; that is precisely what will be needed once Corona is behind us.
In these troubled times, brands can and must make a statement. And they can be a major player, helping to usher in the new epoch. We are living in times of radical change – that is the true nature of the present crisis – and find ourselves confronted with unprecedented challenges. That goes for each and every one of us and also for the brands with which we work every day. The following model has been developed to enable brands to rise to these challenges more effectively and in a more structured manner, while also helping them to map out the right course into the future. The approach is simple: by dividing brand crisis management into three phases, we make it clearer and more readily accessible.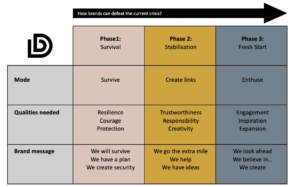 The following three phases can therefore be defined:
Phase 1: Survival
Phase 2: Stabilisation
Phase 3: Fresh start
At each of these phases, we must now ask ourselves,
In which functional mode is the brand positioned?
That being so, what features does it need?
Ideally, what message should it send out?
Let us now look at the individual phases in a little more detail:
Phase 1: Survival  
All of us are living through this phase right now and, depending on the particular brand, we are still in the eye of the storm. What does that storm look like? All over the world, we see how companies and brands are being battered and often stricken to their very core. Strong brands will survive while their weaker counterparts are at serious risk of going to the wall.
In the present Corona crisis, there are surely few business areas or brands that can escape this storm. No matter whether the brand stood in the front line or at the end of a value creation chain – in every sector and in every country, brands have come under enormous pressure in recent weeks. Airlines and motor manufacturers, hotel chains, tour operators, retail chains and many others. And so, their logical move was to go into survival mode. They had no alternative.
In the first phase they simply had to avoid falling by the wayside and emergency measures were vital to protect their employees, customers and in the final analysis the whole system. The need was to act rapidly, consistently but at the same time with the most sensitive possible awareness of the situation. The right decisions were hard to take, but still feasible as long as we clearly recognised what the brand stood for and what it must do now. Here is the rule of thumb: the stronger and more resilient the brand core, the clearer too the heading that the brand must take in the crisis.
The quality of communication both internal (to employees) and external (to customers) played a key role in recent weeks in determining the success and acceptance of the measures; and as always brands succeeded to varying degrees.
Those brands which put across the idea that they were robust and resilient enough to emerge from the time of crisis in good shape, but at the same time bold enough to take necessary and often unpopular decisions quickly and then carry them through, proved particularly successful.
Significantly, we are referring here to the "perceived energy" which a brand radiates in the crisis, even if one or more of the measures taken may in the long run prove to be sub-optimal. Perception is synonymous with reality at the heart of the crisis and that perception will in all probability persist in the customer's mind.
For each brand, big or small, local, regional or global, this phase was and remains an enormous challenge and only if it is taken up successfully can the brand move on to the next phase.
Phase 2: Stabilisation
Once the great storm has passed, the brand will be in a position to take stock for the first time. Where does it now stand, what damage has it suffered, what substance remains on which to build in future?
As soon as we have taken initial stock of the situation, the brand must quickly revert to its mission of taking good care of its customers. The present Corona crisis is a wonderful example of this. The storm was so severe that it affected not just the brands but also all their customers. They are now in lockdown in many parts of the world. Businesses are closed. Many products are in short supply or out of stock. Services are also hard or impossible to provide at this juncture. Nevertheless, the customer still has his previous needs or completely new ones because his reality has changed.
The brand which now manages to work actively and creatively in an effort to satisfy its customers' requirements, however adverse the circumstances may be, will acquire a priceless degree of sympathy and a confidence bonus from its customers. The aim must be to let the customer know "that he/she is important to us, that we are not indifferent to his/her fate and that we will pull out all the stops to give him/her the necessary support, even in these troubled times".
If the brand does manage to convey this impression it can make a real difference to its customers' lives and that difference will pay massive dividends in the short or long run. Here, the principle is that creativity and pragmatism know no limits. Quite the contrary, the more imaginative we are, the better we will succeed.
This second phase is extremely important both for the brand and for its customers. New ideas emerge. Things that were previously inconceivable or seemed too risky will be put into effect and the groundwork will now almost automatically be laid for a fresh start (Phase 3).
The sooner the brand can switch from survival mode to "the customer is important for us" mode, the fewer adverse effects it will suffer and the faster it will be able to restore its former lustre.
But this too is a difficult phase because right now clear thinking, high creativity and a large measure of pragmatism are needed. Brands and organisations that fight shy of change are at a distinct disadvantage. Teamwork, the ability to take decisions and courage are needed to put the strategy into effect. And, as was already the case in Phase 1, in this second phase a clearly defined brand core and strong values are once again at a premium for every brand. Those guiding principles help it to define the new heading faster and more precisely.
As soon as the brand has successfully mastered this phase, it can move on to Phase 3. In the Corona crisis, this will be the time when the present restrictions are gradually lifted, and the brand's freedom of manoeuvre is restored. It must exploit that freedom with stubborn tenacity.
Phase 3: Fresh start
Right now, we are all looking forward to the day when we will once again be able to enjoy real freedom in our public life and see an end to the current restrictions. Brands too will benefit from this regained freedom. The problem is simply that none of us knows when that day will come. Perhaps in just a few weeks' time; on the other hand, we may still be exposed to the present crisis situation for much longer.
That is a challenge in its own right. However, for the brand the aim must be to make the best possible preparations for this fresh start right now. Such preparations are vital. And as always, time is money and every brand must rise to this challenge at the earliest opportunity. One or two extra weeks may make an enormous difference.
The formula is simple: the sooner the brand sets about deciding how to shape its fresh start, the more resources it will be able to mobilise in order to succeed and perhaps even exploit entirely new opportunities. From every quarter we hear this message: after the crisis, nothing will be the same as it used to be – unfortunately, nobody is able as yet to tell us how things will then have changed in our customers' minds.
The best way of influencing the future is obviously to shape it ourselves;. That is why brands should immediately turn their thoughts to what will happen "afterwards". The brand must take a position right now. It must define its beliefs and say how it intends to shape the future. Brands have this immense power which gives them a unique opportunity to reshape their future. To do so, the brand must have a plan.
Here are some key questions that a brand may then ask itself:
"How has Corona changed the market and the customer"?
"What does the customer need now and how can I create the best possible value for him?"
"How can I make sure that I am able to satisfy his needs under optimum conditions?"
The brand which looks at these questions in great detail and finds the right answers will, in all probability, emerge strengthened from the present crisis. It will be able to offer its customers that "little extra" which makes all the difference. This particular brand will shine in a new light and spread a degree of optimism that makes it stand out from the grey masses. And we have surely never before been in such need of a spirit of optimistic renewal which can usher in a new epoch.
Our responsibility as brand experts is to light that spark and help to shape a successful future. Let us therefore now set about doing so together. This crisis can be a giant opportunity for the future and the time for action is right now.
Uli Haist
Head of Strategy and Innovation at Logic Design Switzerland