Travelling the globe from your sofa, travelling shorter distances and closer to nature, setting off on an adventure whilst respecting the planet and its inhabitants, or even setting your sights on space as your next destination? The travelling experience is undergoing a phase of renewal and is taking on various forms, all the more so since the COVID-19 pandemic. Along with this development, an abundance of opportunities are emerging, just waiting to be seized by brands from all sectors…
Travelling by proxy, for lazy travellers
COVID-19 imposing it, for what seems like forever, we've had to sideline our desires to get away from day-to-day life for a break in the great outdoors. What was left for these unfortunate souls, these confined explorers, unable to travel beyond the four walls of their living room? Two eyes, a nose, ears, and tastebuds!
This way, they were able to:
– Travel with their eyes, for example, by watching Nomadland, a moving road trip which plunges the viewer into the life of nomads on the roads of America, or by daydreaming out of the window of total strangers on the other side of the world, via WindowSwap.
– Travel through their sense of smell, by reading and smelling the scratch-and-sniff city-guide Smell York, published by the York Tourism Office, which includes the city's typical odours (bakeries, streets, theatres, antiquities, gardens and parks, etc.), which are all revealed once the pages have been scratched.
– Travel with their ears, by strolling through the districts of the French capital, thanks to the walk soundtrack published online by Ecouter Paris, or by tuning in to radio stations broadcasting live from all four corners of the globe, thanks to Radio Garden.
– Travel with their tastebuds, by tasting flavours from around the world, by ordering, for example, from Papilles Nomades – the more curious will be tempted by their Menu Évasion, full of culinary mystery – or by simply heading down to their local Picard to discover their huge range of World Cuisine.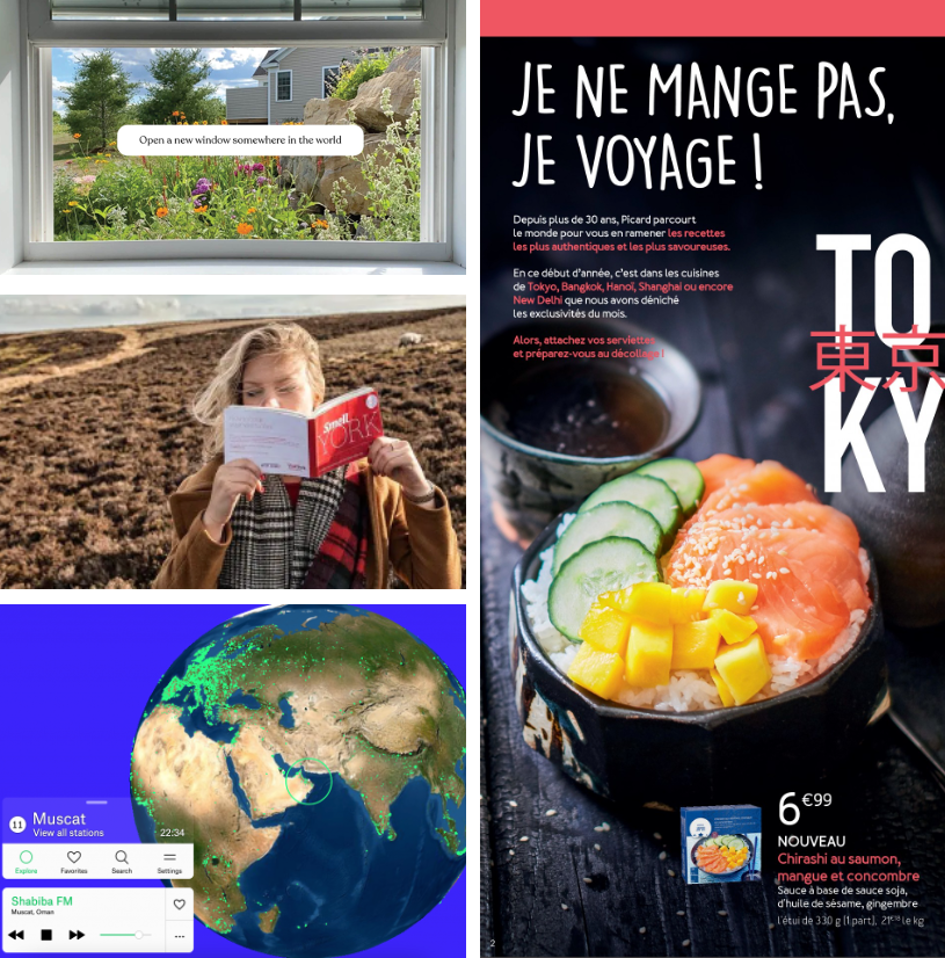 A few initiatives that have joined the trend:
Unable to travel due to the global pandemic, we've been able to experiment with a whole new genre of tourism: remote tourism. A small revolution that has opened up new doors for other sectors looking to satisfy the new demand for experiences that can be enjoyed from home, whether it's motivated by seeking added comfort, or reduced spending.
So, why not surf the wave of possibilities offered by the digital world and virtual reality to democratise access to culture, or even to offer a whole new entertainment experience?
Some initiatives have already taken form in this sense, for example, enabling Notre-Dame-de-Paris to be (re)discovered before and after its fire, awaiting its reopening, through the film Revivre Notre-Dame by FlyView. You can admire the archaeological treasures and reconstructions of the antique city of Pompeii through the immersive Pompeii exhibition at the Grand Palais, or even take part in the first virtual film festival, Short Nite, organised by Fortnite in one of the video game's universes.
Micro-adventuring for travellers who enjoy the simple things in life, and eco-responsible travelling for committed travellers
Although some may have already managed to quench their thirst for travel by proxy, this isn't the case for everyone: nothing can replace real travelling… whether it's to the other side of the world or simply to the end of the street!
Since the pandemic, many people have actually reinvested in their local areas, through a staycation for a few days to reconnect with themselves and with nature, by heading to the capital for a hike via the GR® 75, the first 100% Parisian big hiking trail, created and organised as part of the 2024 Olympic Games, before setting up camp in the great outdoors, or in a garden, using Camping Sauvage's interactive map which lists tested and approved camping spots. This is the principle of "micro-adventures", an alternative to classic tourism which highlights increasingly local and rural destinations, showcasing the simple pleasures, which we've rediscovered the value of through the pandemic: walking, discovering new things, tastings, sharing… In total, 57% of the French population said that they were looking for more rural experiences off the beaten path, to get back to nature (Booking, 2020).
With this change in scale, micro-adventuring is the first stepping stone towards eco-responsible travelling. Travelling less, but better: that's already the resolution of 47% of those interviewed in the "Future Travellers Tribe 2030" study in 2016, confirming their desire to change the way they travel in line with their ecological values. A new way of travelling, reinforced by the pandemic and the economic crisis, which has put all the conditions in place to trigger a boost in environmental awareness.
Tourist destinations themselves are getting on-board. For example, the Faeroe Islands, which restricted access to the archipelago for a weekend in spring for the "Closed for maintenance" operation. The only people admitted were a group of volunteers, there to clean up and maintain the hiking trails – travellers committed to continuing to explore the world without harming the planet. To help them in their quest, for example, they can use the Flockeo platform, which brings together eco-friendly addresses and information on the ecological situation in various parts of the world.
A few initiatives that have joined the trend:
These two trends of micro-adventuring and eco-friendly travelling summarise the refocusing on proximity, in the wider sense of the term (local, nature, etc.), which is becoming a cardinal value. Along with this, we can observe growing concern for the environment and a strong desire to act to protect it.
Brands from all categories have a wealth of opportunities to seize before them, following in the examples of those who've already taken the leap: Crate & Kids, a kids' interior decoration brand, have created a range of products encouraging young ones to take an interest in animals and the natural world; Airbnb is offering a Design and Nature category, which includes unique accommodation options in the heart of nature; Staycation is a website which allows you to book a night in a luxury hotel close to your home at a great discount, so you can feel like you're on holiday without evening leaving your home-town…
Not to mention Latvian design agency Zeltini, which has invented the Z-nitron, which is an innovative fusion of a bike, a boat, and a tiny house!
Transformational travelling
So, picture this: Using holiday time to work on your physical and mental health, to perform better than ever. How does that sound? Pushing past boundaries is the principle of transformational travelling: an experience full of learning and personal development, which exceeds the mere experience of travelling itself.
We've seen a lot of interest pique in this extraordinary type of holiday since the pandemic, which reminded us of just how important our physical and mental well-being is.
Transformational travelling can be manifested in various ways:
– from yoga retreats and detox trips, where you can learn to let go and reconnect with yourself (taking example from the Guide des lieux et expériences pour déconnecter en France [Guide of places and experiences for disconnecting] which was designed by Orange in partnership with Lonely Planet)
– … from inspiring or solo trips to discover the world with fresh eyes (thanks to specialist agencies like Doublesens, which offers trips combining tourism with sustainable development),
– not forgetting survival training trips, to pull you out of your comfort zone and push your limits (for example, with Paleo Tracks Survival School in Colorado, which "teaches people from all walks of life the essential skills necessary for survival and for thriving in any situation").
This new trend is open to travellers of all ages, and it would seem that it's particularly popular with the younger generations, who see travelling as an opportunity for discovery and learning. In the 18-24 year-old age group, 71% said that travelling had already "inspired them to make big changes in their lives" (Booking, 2017).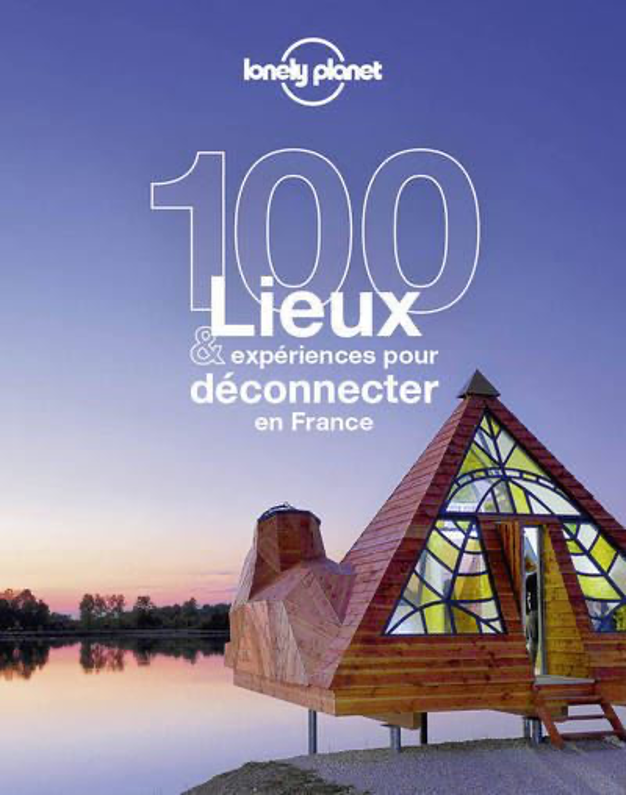 A few initiatives that have joined the trend:
Transformational travelling actually stems from a broader social trend, defined by a strong desire to draw positive, personal impacts from experiences, with experiences seen to be an invaluable tool in self-transformation.
Every sector proposes various experiences – events, gaming, culture, sports, hospitality… They're all involved, and can envision a new approach to the experiences on offer, or new perspectives that can take into account these new requirements. We've seen this demonstrated by the Sarcus Festival, which in 2018 became the first music festival to officially ban mobile phones, with the main goal of "connecting with others, with the unknown, and with yourself". It's also been illustrated by We Can Doo, which offers masterclasses led by artisans, so that people can learn and share in their expertise and know-how.
Space travel, for travellers who've already seen all of planet Earth
Some have been waiting impatiently for this: it is now not only possible to travel to space, but likely to become an option available to the common market!
2021 has see the very first tourist flights to space take off, with the very first tourist space flight in history launched on 11 July 2021, by American company Virgin Galactic, with Jeff Bezos' company Blue Origin following suite just nine days later. Elon Musk's company, SpaceX, has also sent four tourists into space for three days, orbiting Earth in mid-September 2021.
A few initiatives that have joined the trend:
Richard Branson, Jeff Bezos, and Elon Musk: Three billionaires who have set out to "democratise space flight tourism", however, in reality, this type of travel remains reserved for the select elite.
So, why not help space fans take a step closer to realising their dream… in another way?
That's exactly what the team at American brewery Ninkasi Brewing Company have put on offer, through a beer made with yeast that has been sent to space. Steve Pearce, driven by NASA, has created a flavour which reproduces the odour of space, so that astronauts can train in conditions as realistic as possible. Plus, Nike have launched Space Hippie, an exploratory collection inspired by the concept of life on Mars.
There's even talk of a reality TV programme with contestants on-board the International Space Station being filed by American production company Space Hero!
Sévan Sauvaget, Strategy Planner