The three letters NFT have become an internet sensation in the last few months. It's a digital revolution for some,  a new millionaire fad for others, but these "non-fungible tokens" sell for sky high prices.  And big brands have been quick to show interest, turning this virtual trend into real business opportunities.
NFT stands for Non Fungible Token or 'jeton non-fungible' in French. Behind this obscure name, lie Blockchain-based tokens that authenticate all objects as unique and tamper-proof. They offer a new way to create value in the digital space which is  limitless for copying and sharing. For example, these virtual certificates allow digital artists to give unique value to their works and assure collectors of sole ownership. To better understand, let's take a very famous painting, "The Sunflowers" by Van Gogh. Everyone can have a copy at home but only one person can own the original. The same is true for NFTs. Anyone can have the JPEG on their computer but only one person can own the NFT.  This guarantees the authenticity and value of the content.
Everydays : The First 5,000 Days, Beeple's digital art collage

Left: Nyan Cat GIF    l   Right: The first tweet by Jack Dorsey, co-founder of Twitter
Artists quickly understood the value of this digital scarcity. In March 2021, a monumental virtual collage by digital artist Beeple sold for $ 69 million at a Christies auction. The collage has become the most expensive piece of crypto-art in the world and the craze doesn't end there. Because NFTs are not exclusive to digital art, they can authenticate any type of digital content: an image, a video, a music, a Gif, a tweet … A true icon of Internet culture, the Gif of Nyan Cat reached $ 580,000 at auction and Jack Dorsey the co-founder of Twitter sold his very first tweet published on his platform for $ 2.9 million.
Faced with this enthusiasm, some brands have not hesitated to appropriate the phenomenon. NFT's allow brands to enter a new digital era, offering a different way of interacting with consumers. What concrete opportunities can brands find and what are the levers?
GENERATE BRAND ENGAGEMENT
While surfing the NFT hype, one of the first goals of brands is to get people talking. With the subject getting increasing media coverage, brands find a guaranteed echo in the news. NFTs are therefore a simple way to amplify brand awareness and recruit new consumers. They are also becoming a new communication medium capable of providing a new voice and lifting a corporate image. The early adopter brands were able to quantify this phenomenon.
Taco Bell who was one of the first to release a series of 5 NFTs featuring their famous tacos. In just 30 minutes, the brand sold all of its digital works. The starting price for each was $ 1. As of this writing, they are on resale for 10 ETH, or $ 30,000.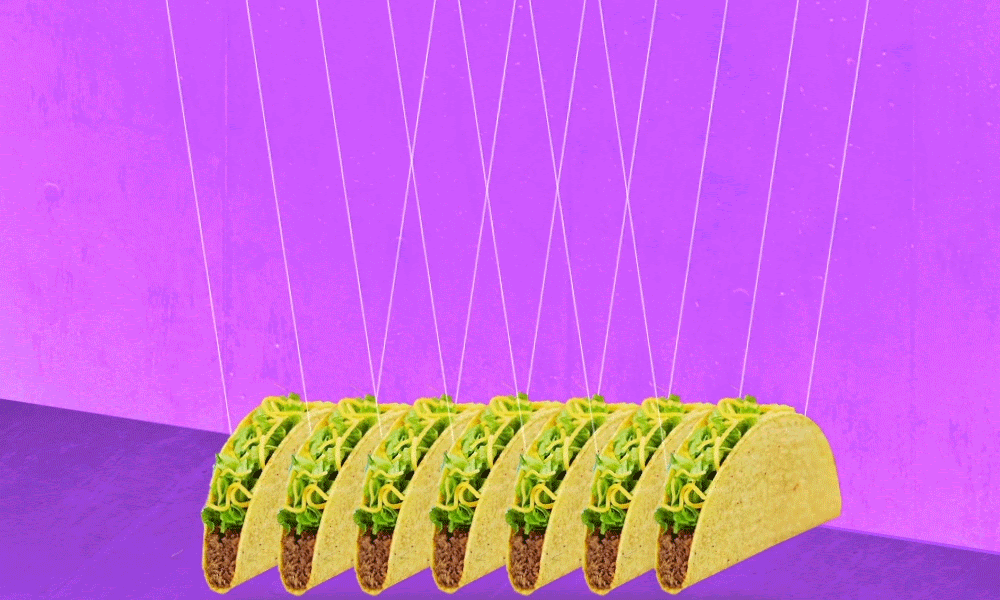 One of the 5 NFTs of the Taco Bell food chain
Small brands are in on it too. It only took 7 minutes to sell the limited edition sneakers designed by Fewocious in collaboration with the RTFKT Studios brand. In total, 621 virtual pairs were sold for a net profit of $ 3.1 million. A dazzling success that now allows the studio to collaborate with other big brands and celebrities.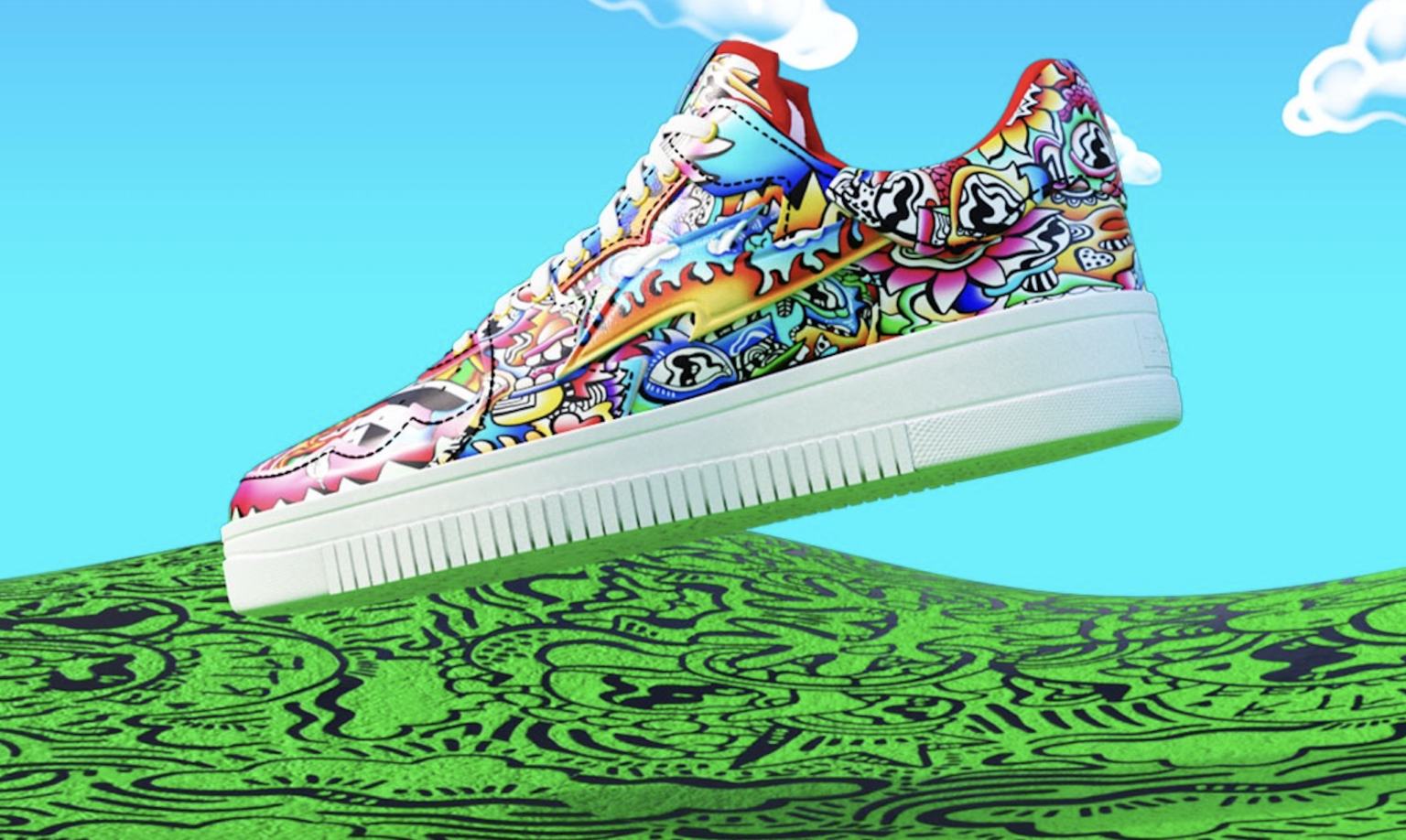 The virtual sneakers of RTFKT Studios, in collaboration with stylist Fewocious
PROVIDE SURPRISING EXPERIENCES
Aside from simply auctioning content, NFTs are an opportunity for brands to create a stir while delivering amazing and innovative user experiences. The digital world offers countless possibilities to support the launch of an NFT: virtual experiences, gaming, online events, community life … For brands, NFTs are a way of creating enthusiasm, but also of giving users an entertaining brand experience by playing with codes and exploring their universes.
For example, the beer brand Stella Artois has joined the growing interest in virtual horse racing by auctioning 50 digital "thoroughbreds". In collaboration with Zed Run, the brand offers owners of these virtual horses the opportunity to collect, trade, race and even breed their mares in a racing game, "Racing In The Life Artois". As one of the biggest sponsors of sporting events, it seemed like a no-brainer for Stella Artois to offer an online equivalent to e-sports fans.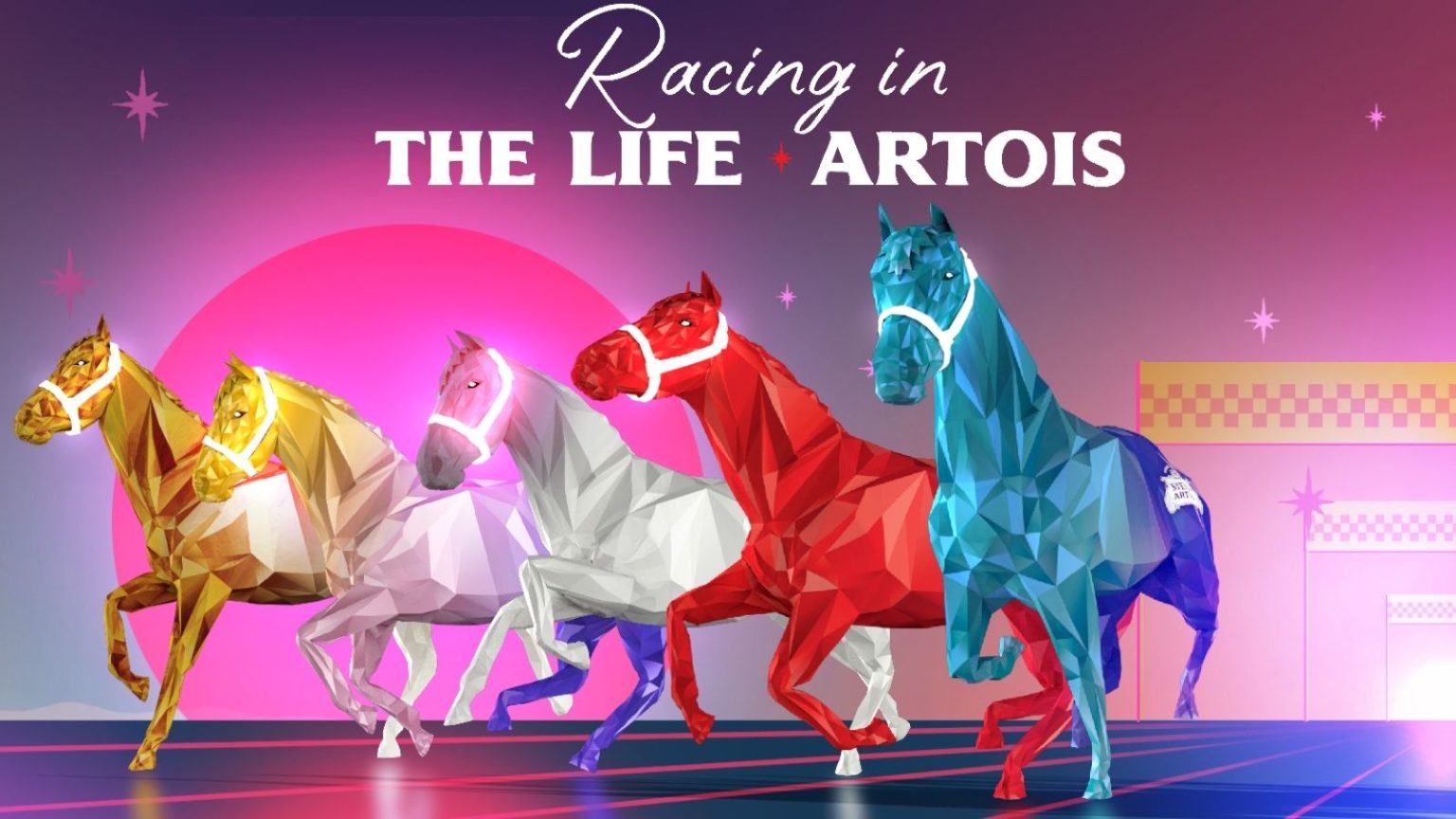 «Racing In The Life Artois», Stella Artois gets into virtual horse racing
To celebrate the 200th birthday of the luxury brand Louis Vuitton "Louis: The Game" was created as a new mobile game application. The game follows the mascot's journey through Paris and contains 30 NFTs that players can collect along the way. The killer detail-  10 of them were designed by digital artist Beeple. Today, these NFTs cannot be resold and will remain stuck in a wallet until 2022.
«Louis The Game», Louis Vuitton hides NFTs in its new mobile game
GETTING PASSIONATE PEOPLE TOGETHER
One thing is certain, NFTs drive community engagement whether people are tech-savvy, brand-savvy or both. Brands that embrace this trend give users the opportunity to collect items, badges and experiences that create excitement for collectors and reinforce brand loyalty. It's a way to reward your community for their support but also a means to offer exclusive content to make them feel special.
The most convincing case is certainly that of the NBA, which has reinvented the concept of collectible cards. With "Top Shot", users can purchase packages of virtual cards and find out which ones they have been lucky enough to pocket. Each card is identified by an NFT and can be kept, traded or sold to another collector. What makes these cards unique is that they are short video clips , called "Moments",  that capture the most memorable actions of NBA stars. Another textbook example of this enthusiasm for "collectibles" is the start-up Sorare. They sell digital football player cards and have just signed the biggest fundraiser in the history of French Tech.
LeBron James' NBA Top Shot Moments sold for $387,000
Other have also got their fans on-board with McDonald's being the first consumer brand to do so in France. As an icon of pop culture with a loyal following of collectors, they didn't hesitate to launch its series of NFT's. It launched a contest on Instagram and Twitter with a series including 4 iconic products: the Big Mac, Sundae, Chicken McNuggets and Fries each with 5 numbered copies. In addition to the NFT, the winners received a digital frame reproducing the artwork.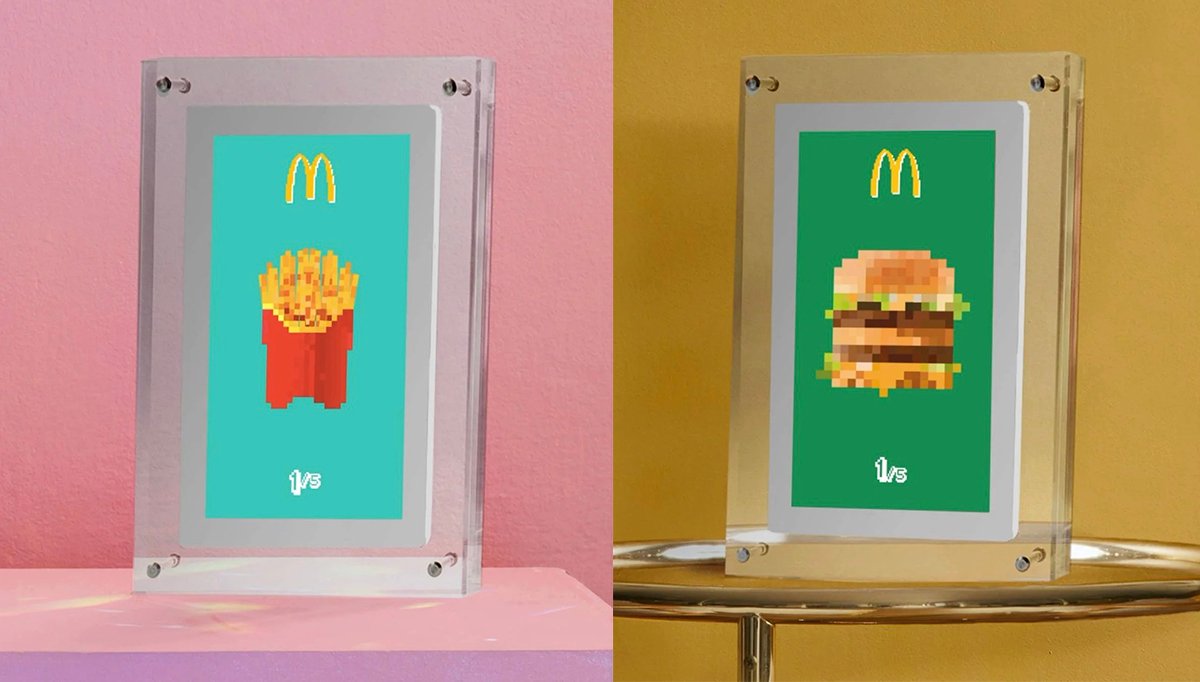 Two of four McDonald's NFTs to win
SUPPORTING CHARITABLE PROJECTS
Much of the enthusiasm for NFTs is scarcity based speculation based of sale certificates and hence certain brands risk being labelled 'opportunist'. This is why  many of them choose to donate their profits to charity. NFTs have  become  a technological  craze that can help drive social and solidarity commitments. And this becomes particularly interesting when young consumers show a preference for brands that share the same commitments.
This year, the New York fashion house DKNY announced the release of its new logo but in a slightly special format: an NFT animated by artificial intelligence with New York avenues as a backdrop. The NFT was produced by Parisian artists Obvious and auctioned off to celebrate the launch of the new identity. And to keep it topical, the fashion house has decided to donate all profits to the American Nurse Foundation Coronavirus. It supports nurses who work with COVID-19 patients.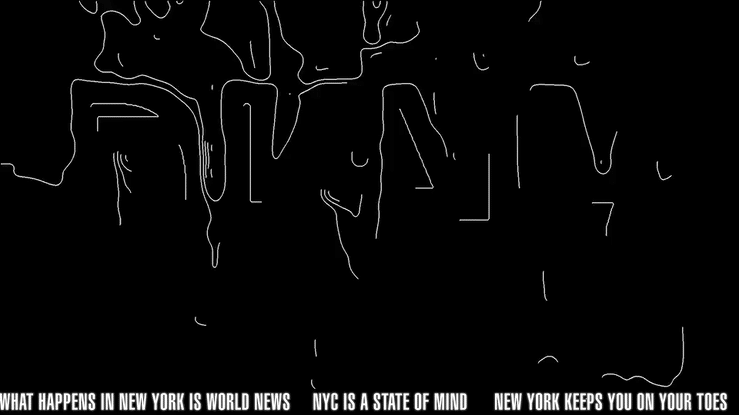 DKNY's new logo revealed as NFT in collaboration with Obvious
At Adidas, it centres on a competition for its most creative fans. The brand and famous model Karlie Kloss organized a design competition on the digital fashion platform, The Manufacturer. The winning designs were auctioned off as NFTs- 50% of the profits went to the winners and the other 50% went to the supermodel's foundation, Kode with Klossy- this promotes young women's access to the tech sector.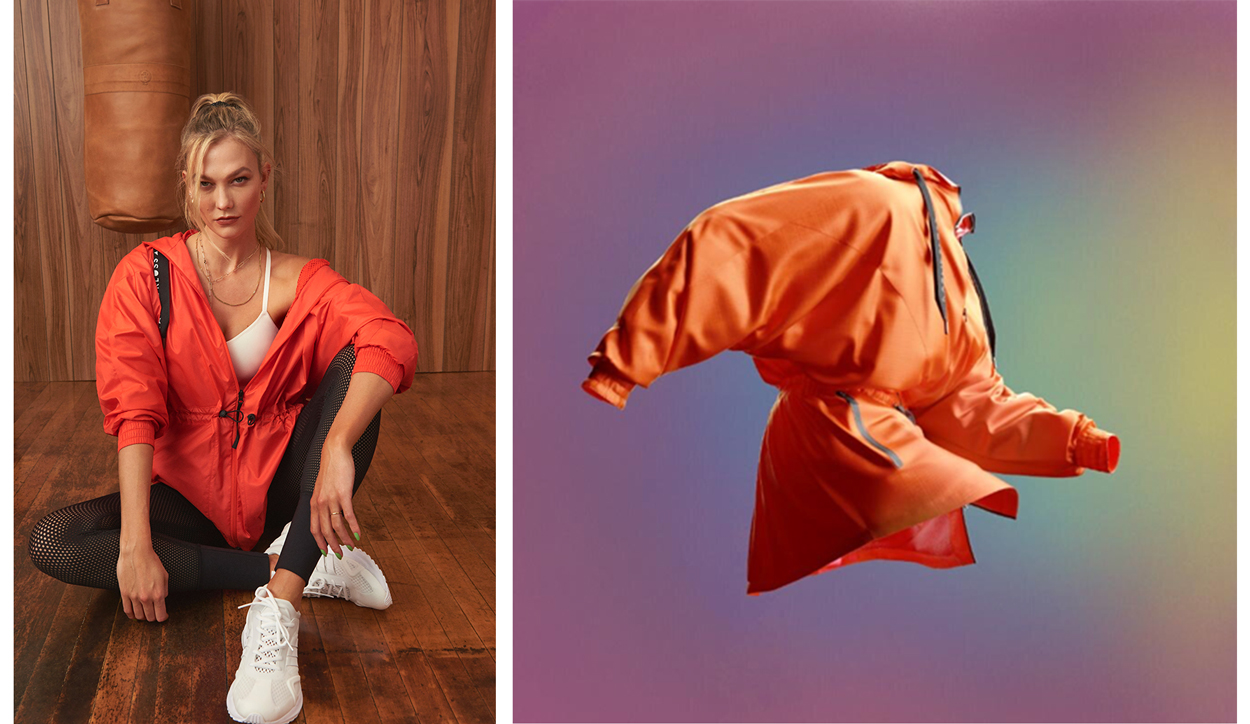 Karlie Kloss, in collaboration with Adidas – NFTs sold at auction for contest winners
You will understand, NFTs constitute an interesting opportunity for those looking to spice up their digital strategy. While it currently concerns 'early adopters', its resonance in the digital landscape is sufficiently important to get people talking about your brand and creativity.
No one can predict the future of NFT or can confirm the sustainability of this technology. However, they are definite signs that a virtual world is opening before our eyes. Imagine a world where you could hang out with friends as an avatar or watch your favourite singer's concert through a virtual reality headset- all without leaving your sofa. These experimental online universes already exist and the digital giants are now talking about the 'Metaverse'. Coke has its "Coca-Cola Bubble Jacket" a virtual jacket you can wear in the metaverse and those brands that are releasing their NFT's today, are already building the metaverse landscape of tomorrow.
Marine Simondi, strategic planner