Out of habit,  we try to interpret trends when brands hire us to do so. However, given the exceptional circumstances and various initiatives that may or may not last, it suggests we take the opposite view. If we look at the other side of the mirror, what do these brands say about us and society…?
New sustainable behaviour
Fischer Price's highly acclaimed release of "My Home Office" is significant.
It anchors remote work as a cultural norm for a whole generation, a job or a vocation onto itself. It inspires children, nourishes their ambitions by joining Team Mattel with archaeological sets, chef's kitchens and Barbie the vet. And then what ?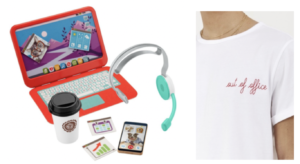 Fischer Price, 'My Home office'  Home  Labiche, embroidered T shirt, Out of office
This is not temporary. Our relationship to the workplace and home has changed. A slew of innovations have come about through real estate players, furniture designers, time management and software companies.
These hybrid times are new, so how do we manage them?  How do we redefine added value and the workplace? Should we favour a reduction in productive space to keep collaborative and areas for face-to-face meetings? How do we reconfigure the home?
The latest report from Microsoft's Worklab is categorical: flexibility at work and the notion of "remote" have a bright future … it's now in the hands of companies and employees to find their path.
Escaping anxiety
On March 4, Byredo, the Swedish company launched Mixed Emotions, a fragrance that's aromatically complex mixing woody notes, tea, violet and blackcurrant. It's supposed to immortalise our collective state of crisis by providing comfort and reassurance.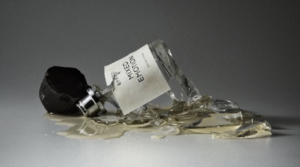 Byredo launched Mixed Emotions, 4th March
Alongside a flourishing market based around protection with products to strengthen immunity, enriched with probiotics or super-ingredients, another is growing based on the notion of serenity. The key words? Stress reduction, sleep optimisation and relaxation.
And everything goes. In the UK chocolate consumption, known for its soothing qualities, has increased by 40% since the start of the pandemic. Melatonin enriched creams and  drinks are launched; Anti-stress, Sleep Booster, Relaxation, Soothing, will they be the new health benefits of tomorrow?
The 'wellneauty' universe,  blending beauty and health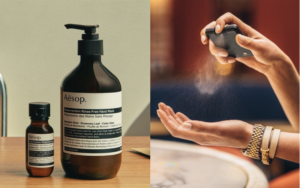 La Résurrection for hands by Aeop  Jardin with Zenatti herbs, gets rid of 99,999% of bacteria and viruses
The cosmetic brands are naturally seizing the hand care segment by offering multiple innovations. These range mostly from protective sanitizers enriched with moisturizing agents to anti-bacterial gel from the perfumer Zenatti.  They are marking a new vision of the beauty market, fused with notions of health, hygiene and safety.
Beyond the quest for safety and eco-responsibility driven by nature and organics, cosmetic brands are also looking for enhanced natural beauty. This
combines the idea of pleasure with the reassurance and comfort for well-being.
The body and skin play their role as a barrier and now the protection of the "inner-self" involves that of the "outer envelope" and vice versa.
Antibacterial face care and lip balm, beauty food supplements, juice enriched with collagen ideal for skin and bone health.  The boundaries between cosmetics and food are eroding . At the same time bathroom and kitchen essentials are shifting…
It's in these times of crisis that brands have to reinvent themselves the most. Like open-air laboratories they are  a reflection of our concerns and the ephemeral nature of certain phenomena and the lasting nature of deeper changes. Who knows,  they are maybe providing hints on what we dare to call 'tomorrow's world'.
Kim Hartmann, Head of Strategic Planning
Sources :
The Next Great Disruption Is Hybrid Work—Are We Ready?, Microsoft Work Lab
https://www.microsoft.com/en-us/worklab/work-trend-index/hybrid-work
FMCGGurus, : https://fmcggurus.com/blog/fmcg-gurus-chocolate-trends-within-the-uk-2020/