Logic Design has been highlighting the transport offers of the Federal Railways and Freiburg Public Transport (TFP) for over five years.
Thanks to the expertise of our local team and in-depth knowledge of the market, Logic Design Switzerland is able to offer communication solutions. These unite the different project stakeholders around an offer which is exclusively communicated around the canton. This type of local communication touches tourists and regular travellers.
These communication initiatives focus on a number of subjects throughout the year such as enhancing the customer experience, promoting leisure destinations and providing traveller information. Various campaigns are launched throughout the year ranging from posters, video production and press releases.
If you're in the Friborg, Bulle or Palézieux stations, don't miss the posters produced by our local agency!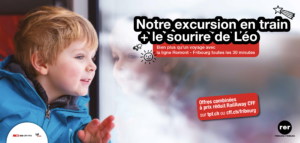 Find all our news here !
Keywords : TFP, branding agency