The advent of COVID has meant  crowds have deserted cultural spaces and whenever possible, crowded stores. They now gone online to buy cultural and essential goods.
To remedy this situation cultural and commercial spaces are being re-thought through the prism of the pandemic prims and COVID compliance.
How do you reinvent these spaces when they have been stripped of their primary function, generating traffic?
1) Enrich the experience and develop the space
Monoprix x Kabin: from commercial to everyday space
Monoprix wants to transform its stores into everyday spaces and has joined up with the start-up, Kabin. This allows users to rent work space in Daily Monop convenience stores. Born out of shifting trends in the world of work, Kabin is promoting the idea of remote working and multiple locations. An opportunity for Monoprix to keep close to the changing needs of its customers.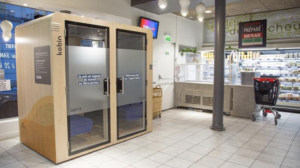 The Berghain in Berlin: from nightclub to cultural space
Berlin's party hotspot, the Berghain turned itself into a giant art gallery last September. On the program: an exhibition accompanied by a dj. Is the Berghain reinventing the night club or the museum?  However, one thing is certain,  the future of parties and culture is a hybrid one.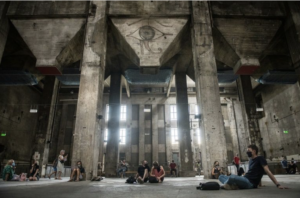 Mk2: from cinema to cinephile moments
The MK2 Group is about to inaugurate a new type of cinema: the cinema-hotel.
The Paradisio, which has 36 rooms and as many private screening rooms is somewhere between streaming content at home and sitting in large room next to strangers. The idea is to adapt to new consumption patterns by providing streaming services in a cinema setting. This diversification process was already in motion before, but has been given a boost with the pandemic.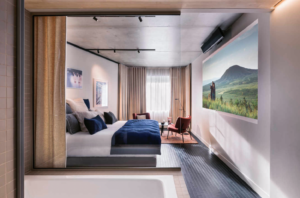 2) Transform sites and their uses
Cinema: from passive to interactive experiences
This originated in South Korea where the majority of the population is involved in video games and e-sport. These live events are real institutions that are broadcast on national TV. The renting of entire cinemas to play video games has arrived in France and this allows operators to use their spaces until screenings can resume and venues can fill up again.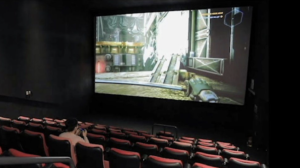 Concerts: from a few people to several million
Artists are going through very difficult times. Without concerts, they try to find new ways to connect with their audiences and generate income. For example, Travis Scott's latest concert series broadcast live on Fortnite attracted 27 million spectators. No live concert taking place in the physical world has even come close. Not even Woodstock!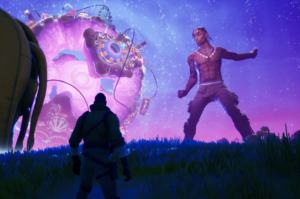 Finnair: from air travel to culinary travel
Finnair,  The Finnish airline had decided to market it business class menus in supermarkets to compensate for the huge drop in air traffic. It maintains employment, generates an income and allows consumers to travel for less or at least taste what it's like flying with Finnair.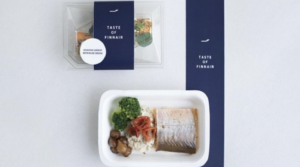 Gran Teatre de Liceu: new audience for a new experience
Without spectators, the famous Barcelona theatre replaced the audience with thousands of plants for a classical concert. A way of enriching the acoustics and preserving the essence of a live stage performance. The broadcast was streamed and the concert offered a new kind of privileged access to a cultural event.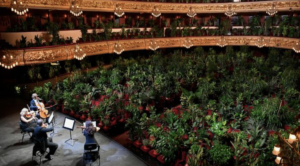 Ghost kitchen: from restaurant to kitchen
There has been an unprecedented boom in meal deliveries during the pandemic.  Ghost, Dark or even Cloud kitchens have emerged out of this context.
The principle is simple: ghost kitchens rent professional spaces to cook meals that are delivered on a  just-in-time basis. So, for restaurants all that's left are the kitchens.
Some players are "100% dark kitchens", meaning they don't have their own premises (they join hubs or rent space from fully equipped restaurants). Others, are just impatient to set their tables again.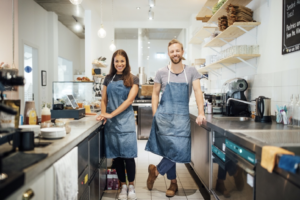 Three models emerge:
Enrich the on-site experience and create new spaces: a long-term model that capitalises on the business slowdown by thinking of new ways to create value.
Transform sites and their usage: a model that aims to minimise income losses by offering a 'replacement' which can become an integral part of the overall experience in the future.
Go fromfront to backstage. This sits halfway between future experiences and what's happening now. This models encourages managers to rethink about the 'live' experience for audiences in the short and longer-term.
Thinking about rethinking your commercial or cultural spaces? Let's talk about it!
Marc Beaudeaux, Strategic Planner