Logic Design is first and foremost a team. Each month, we will introduce a new member of the #LogicTeam for you to meet the people behind the scene…
A tiny but very dynamic woman sat down in front of me yesterday. She put down her cup of tea and her pin-up notebook on the large round table and quickly hand-combed her pink bangs (the color changes depending on her mood). We looked at each other, amused, almost embarrassed. It was our first time. The first time she was asked to put down in words her life, her work, her passions, and the first time I did that sort of exercise.
Delphine is the creative director at Logic Design France.
For almost one hour, she drew the contours of her story. Cooking, multicolor cakes, her comics skirt, her creations made with Fimo paste or pearls that she sold in highschool, Nikki de Saint Phalle who she wishes she could have met, her ballet classes, the Palais de Tokyo where she likes to wander with her children… She talked about her huge cupboard filled with watercolors, pencils and notebooks, about the shows that amaze her and about her academic background, the mathematics preparatory classes, her parents she had to convince that she was not an engineer… One day, she dropped it all, to make pastel dance between her fingers, to give life to matter and color. She found herself sitting on the bench of a design school : "and then, I was happy… It was just amazing.".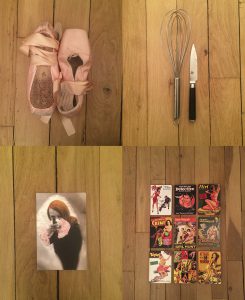 Freshly graduated, there she is, with all her roughs under her arm, knocking on the agency's door. She was accepted like a challenge : "Let's do it", said Jérôme Lanoy, Logic Design's founder and president, as he gave her typography and font books for her to study. At the time, the agency was small. So was she. She still had a lot to learn. She would sit for hours next to the creative teams watching them work to develop her own technique. Determined and hardworking, she became a senior artistic manager and then a director. Today, she manages the whole creative floor. She advises, stimulates the team, teaches young graduates, likes to discuss the drawing of a letter, the choice of a pantone, the strategy of a brand.
She has been working at the agency for 18 years now.
« Today, I feel good in my ballerina flat shoes. If I have learnt something with all this, it is that we must believe in our dreams (and take action ;)."
Clémence Lejeune, communications manager