There is no one who is as exposed to brands as the people who work with them, whether they are marketing teams or their agencies. This statement may seem obvious to us, but we often lose sight of it.
As Brand managers, when we go to the supermarket, we are much more likely to see and recognize our brand on the shelves. We immediately notice the design changes we have made, the promotion we have approved or the new reference we have launched.
As Romaniuk & Sharp1 said, our mental availability is greater: we are more likely to remember and think about our brand when we are in a shopping situation than the average consumer. Our daily impacts are more frequent, we participate in changes and we probably spend more time in front of the category shelf. Let's remember that the consumer only spends an average of 6 seconds in front of it2, barely a breath.
In this regard, we are also more susceptible to become overloaded with our own brands and, sometimes, feel the temptation to make noticeable changes in their brand assets. Faced with constant repetition, we can get tired of seeing the same colours in our social media feed, reading the same claim for years or having our jingle in our head constantly.
Therefore, we must not forget the fact that we are very biased and we do not represent the average consumer. According to studies by the Ehrenberg-Bass Institute3, 84% of ads are not correctly remembered or associated with the brand. Moreover, consumers say that if 75% of brands were to disappear tomorrow, they wouldn't care and would quickly replace them.
As marketers, part of our job is to ensure that consumers immediately recognize, distinguish and differentiate our brand from the competitors. And that requires frequency and consistency over time. Sometimes we may forget that it has taken decades for leading brands to strengthen their identity assets: the "Just do it" campaign dates from 1988 and the famous apple from 1976.
A failed case: Gap Inc[i].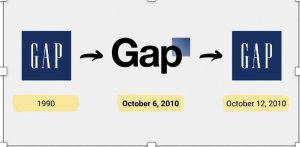 Faced with a prolonged period of falling sales, Gap Inc. decided to change the logo in 2010. With 97% brand recognition in the United States, they presented an image radically different from the previous one which had become a classic. Criticism and ridicule soon followed and Fans of the brand started a protest campaign on social media.  Within days it turned into a major business crisis to such an extent that the company was forced, in less than one week, to recover its iconic logo.
[i] Fisher, B. (10 de Julio de 2010, actualizado 6 de Diciembre de 2017). The Gap's new logo. https://www.huffpost.com/entry/the-gaps-new-logo_b_754981
Given what we have seen, it is essential to get out of the marketing bubble to obtain a more real and less biased perception. We need to incorporate users, buyers and even non-consumers in the brand building process. We must apply different techniques that allow us to realize that, when we go to the supermarket, we are not potential buyer. In the end, we need to understand that our potential consumers are not in love with our brand, they are thinking about different things and often buy a product without analysing it.
Paula Cruañas
Head of Strategy
[1] Romaniuk, J. (2018). Building Distinctive Brand Assets. Oxford University Press.
[1] The Nielsen Company (2019). Getting more with less. Creating successful assortment optimization strategy.
[1] Sharp, B. (2010). Estudio de Ehrenberg-Bass Institute recogido en How Brands Grow. Oxford University Press.
[1] Havas Meaningful Brands Report (2021)