Logic Design is first and foremost a team. Each month, we will introduce a new member of the #LogicTeam for you to meet the people behind the scene…
She walked 62 miles, 30 hours, without sleeping, for an NGO.
She swam in ice-cold water, without a diving suit, for the thrill.
She finished a semi-marathon, even though she had never run before, for the challenge.
"I like to push my own limits, see how far I can go."
At the agency too she likes to push her limits and break codes to help brands move forward.
Charlotte first went to a business school: move to Grenoble, long revision nights, students parties and skiing weekends. For her last year, she decides to go to Northern Europe, live a summer without nights and a winter without sun in Finland. She soon gets used to Finland's traditions and, thirsty for adventures, she takes advantage of this trip to explore Laponia, Russia and goes around Nordic countries.
Back to France, she graduates in Innovation and Design at Strate College and works in an innovation consultancy before joining Logic Design: "At the agency, we monitor projects from concept to launch.". She has been Innovation Manager for a year and a half. Charlotte enjoys her job: she rethinks the innovation processes with clients and consumers and develops new tools and methods to nurture and enrich the agency's projects.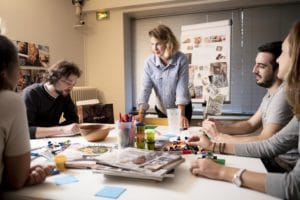 Her greatest source of pride at work? The implementation of Design Sprint. This new method made it possible to reinvent how we use mass consumption products and develop an innovation prototyped by and tested on consumers in under a week!
"I am not afraid to do unusual stuff, transcend conventional standards."
We love it!
Clémence Lejeune
Communications Manager