Logic Design is first and foremost a team. Each month, we will introduce a new member of the #LogicTeam for you to meet the people behind the scene… Today, we present Christelle Bapst, our creative designer of the agency.
It is 4pm sharp when Christelle Bapst enters my office, right on time as usual. I scan her from head to toe to have a look at her outfit where every detail counts. Always dressed with great taste, Christelle has a keen aesthetic sense, and it shows! She smoothly sits in front of me and energetically put her bangs in order. Seeing her like this, I can't believe her clothes hide a dozen of tattoos… We forget in winter.
She has always been passionate about tattoos. She is 18 when she gets her first one, after a long wait: "I waited to turn 18 so I didn't have to ask my parents' permission. I love tattoos, especially Japanese ones, they are so pretty."
Thanks to her 2 sons, 4 and 1 years old, who wake her up "when the rooster crows" every morning, Christelle can enjoy the whole day: "When I get to the agency, I often feel like I've already had a full day but I love seeing you all and have a second breakfast with you (laughs)!". For 4 years now, she has agily been juggling with her two jobs as a mom and a creative designer.
Christelle was not much older than her youngest son when she started drawing: "I've been drawing since I can hold a pencil!". She was already interested by product design when she was 10 and passionate about the design of Swatch watches: "I used to draw the shape of the watch and imagine different designs, from the more simple to the craziest, I had a real collection!".
Christelle thought about becoming a vet or a dentist when she was young but she soon realized that graphic designer was her dream job. She started an internship at 14 years old in a small design studio and confirmed her intuition: "My parents encouraged me to do something 'safer' and get a general training so I can more easily find a job on a difficult marketing especially in the artistic field". She graduated in business and economy and got a marketing and communications certificate.
With that "safe base", she embraces her passion and graduates in graphic design: "This education allowed me to have a broader vision of my work and examine the merits of my propositions in a different way… And I don't forget that I got my first designer job thanks to my business diploma.". When Christelle started to look for a job, she could count the job offers on the fingers of one hand and she applied to an administrative assistant position. That is how she got hired in a small startup:  50% administrative assistant, 50% graphic designer. Soon, all she does is design: "I was able to create everything from A to Z. It was really rewarding, I proved myself and gained confidence".
After 5 years in the startup, Christelle needed a change and wanted to develop her skills: "I had no senior around me and wanted to go work in an agency, with other designers to evolve and grow professionally". The Logic Design adventure starts here, almost 10 years ago: "A lifetime… I like it here so I'm staying! I like the vision of the agency, the state of mind and the work atmosphere. I work on very different projects so I face new challenges all the time. I love my job!".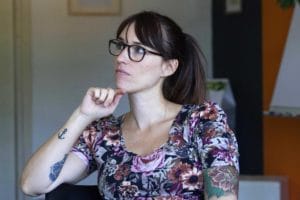 Christelle is curious and feeds her mind with everything that is around her. She loves arts, particularly ancient arts, painting and photography and she never misses an exhibition! She loves going through every design, every creation she can find and examine every little detail, "professional deformation" she says. What she likes best about her job? Create a visual identity from scratch: "I also love typography, it is a key element that one must master. A typography can make the difference".
Fulfilled and accomplished in her personal and professional life, Christelle Bapst dreams about a trip to Japan: "My husband and I have always been passionate about Japan, the culture, the history and most of all the imagery".
I bet she will get back with a brand new tattoo! 😉
Hélène Deschamps, Former CEO Logic Design Switzerland