Logic Design is first and foremost a team. Each month, we will introduce a new member of the #LogicTeam for you to meet the people behind the scene… Today, we present Henry Dujmusic, Projects Manager of the agency.
What is complicated with account managers is the busy agenda management. Between the meetings, the briefings and the unforeseen calls, it is very tricky for them to make room for an interview. But what is great with account managers is that they never forget: they keep everything in mind and come back to you as soon as they get a chance 🙂
Henry Dujmusic is a projects manager at Logic Design. He joined the Blue Ocean BU in January 2017. He handles a few major accounts such as Maggi and CPW cereals, as well as child nutrition projects.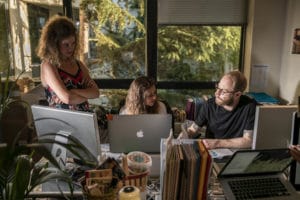 On his office walls, there are a dozen of vinyles covers. He is truly passionate about music. Hip hop, jazz, funk, soul… Every morning, he takes a minute to go over musical news and regularly goes to concerts in different parisian venues.
He engraved his love for music onto his skin. His arms reflect his musical tastes and important moments of his life. Despite what I thought, Henry is not a tattoo fan. He is not the kind of person who will get obsessed on the design of his next tattoo for months or who wants to get a tattoo from a celebrity. To him, tattoos are moments, life events and he usually gets tattooed spontaneously, on the spur of the moment.
Henry says so himself: "My job is very demanding, we cannot not be perfect. But in my team, everyone has a smile on their faces, we have a lot of fun". He is actually always the first one to play tricks to make his colleagues and clients laugh!
Clémence Lejeune, communication manager