Logic Design is first and foremost a team. Each month, we will introduce a new member of the #LogicTeam for you to meet the people behind the scene…
She arrives at the agency and the six-foot-tall Laure shouts a warm "good morning", swings her travel bag behind her desk and starts the sprint that will be her day. Laure is a senior strategic planner at Logic Design Paris. She is an energy ball, always on the move. She needs unknown, travels and challenges.
"Initially, I wanted to be a stylist. I have always had a taste for aesthetics and fine brands."
It is only at the end of my student years that she discovers semiology. Passionate about the signs and symbols, she falls in love with that field. One thing leading to another, she has the opportunity to work on strategy for a competition. She has never done that but accepts the challenge. The agency wins the competition and here she is, propelled to strategic planning.
Because she loves that every day is a new day, because she is fond of new challenges, Laure has worked as a freelancer for different agencies for 5 years before officially joining the Logic team.
"What made me settle down at Logic Design is the way we work at the agency. With Open Pilot, we get out of the office and meet people. We talk a lot with teams, we mix disciplines and this makes our job more interesting."
If she loves her job so much it is also because it allows her to nurture her curiosity and her thirst for discovery: "Lately, I have worked on a small brand of organic canned products with great values. It is thrilling to be able to give birth to such a committed brand.". At the end of November, Laure will also present the results of Logic Design's study during the conference "Women & Brands" at My Little Paris.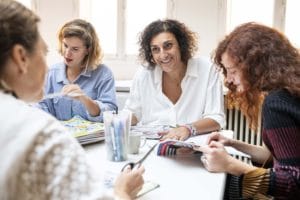 When she is not behind her computer, Laure is also the proud mum of "the most wonderful little boy in the world", a young woman from Marseille with a strong character and a passion for superheroes (maybe she is one of them by the way?). Her fight? A struggle against routine and prejudice!
Clémence Lejeune, Communications manager