Logic Design is first and foremost a team. Each month, we will introduce a new member of the #LogicTeam for you to meet the people behind the scene… Today, meet Silvia Escivà, Client Director ! 
Curiosity is a virtue. It leads people to seek new challenges and go where others have never been. It is not a coincidence if people with that quality are always motivated and have such a contagious energy that it becomes fascinating to work with them. Silvia Escrivá, our Client Director in Barcelona, is one of them.
Silvia started working before even finishing her undergraduate studies in Advertising and Public Relations at Ramón Llull University. She quickly realized she belonged to the client department: "I could not do anything else. When I get home, I keep on talking about projects. When I am supposed to disconnect, I stay connected!". She has had a passion for her work since the very beginning. That passion opened the doors to the advertising world and her first real client was no-one else but Volkswagen.
Curious people cannot stop exploring new horizons. She lived in Minnesota for a year, where she learnt English and taught Spanish to children. Then, she moved to San Francisco for a Master's degree in Strategic Planning at the "Miami AdSchool". Back to Barcelona, she joined an event agency and worked for Nintendo. She then had a job opportunity in Bolivia as a Client Director: "A rewarding time for me, both personally and professionally, because even though it is a country with limited resources, people are extremely motivated in pursuing big projects".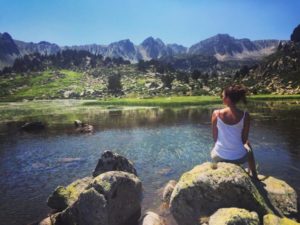 After two years in Latin America, it was time for her to come back to Barcelona. Looking for new challenges, especially in branding, she joined Logic Design: "It looked like it was meant to be. I liked the strategic angle of the agency focused on design. Moreover, brands like Nestlé or Lidl trusted them, that was an essential factor for me."
She has been enjoying herself since then: "I really appreciate that our work is valued, our clients trust us, and we work together, in a collaborative spirit.". 
Everything about Silvia shows confidence, from her dress style to the way she speaks. She is an inspiration. She knows how to make the best use of time but always takes some to share interesting stories with us, stories we always listen carefully to, especially when she gets back from well-deserved holidays. ☀️
Bárbara Flores Lugo, Communication Manager
Find all the #LogicTeam here
Keywords : client director, logic team, branding agency